Facebook is a great way to Connect with friends as many people say, and the best thing facebook did when it comes to birthdays is it completley changed the way we wish our friends. Sending Birthday Wishes To Our Facebook Friends on their Birthday through FB Timeline is the Trend now rather than Texting him unless he/her is a close friend.
Though it's a very simple thing to send wishes with a smart phone in everyone's pocket, there are chances We may miss or forget to wish your friends. Things become awkward especiallly when we forgot to wish a person who is very special to us or We being special to them.
Thanks to the website: BirthdayFB.com. This Website allows us to schedule wishes to our FB friends, so that it will automatically post wishes from your profile on our Friends Timeline on their Birthday. And it looks just like you did it. No one can find out that they are automated wishes. It's cool isn't it.
Also Read: Block Game Requests On Facebook
How To Automatically Post Birthday Wishes On Friends Facebook Timeline:
Step 1: Goto BirthdayFB.com & Connect With Your Facebook Account.
Step 2: Allow the Permission.
Step 3: Click on the write Message option next to your Facebook Friends Details to compose your Message.
Step 4: From the available options choose one or select "–canned messages–" to compose a custom message.
Step 5: Save the message. and that's it You've scheduled your wishes to that particular person's birthday.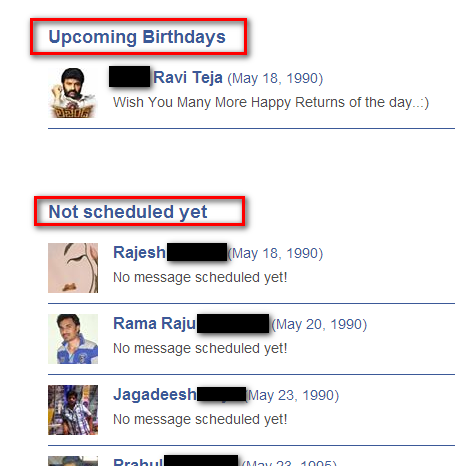 Once you scheduled , There will be two categories, Scheduled and Non Scheduled which will help us to understand to whom we scheduled the messages an
d to whom not.
That's It. Now BirthdayFB will post wishes on your behalf on Your Friend's FB Timeline On His/Her Birthday.
Leave a comment and let us know your opinion