Google Play Store is the largest app store for android powered smartphones, tablets, TV and wearables. A lot of productive, entertainment apps and exciting games are available in Playstore. Lets say you want to download an android application or an android game on to your device, but unable to install it , may be because the app is "not available for your region" or your device may be "low on memory" or may be the "app is incompatible with your device" or because of some other restrictions. Some rooted devices are still able to run apps that are shown as not compatible for your device on playstore.
Did you Know ? that you can download apk for any android application, Games that are available on Playstore.
What is Android APK?
Android application package (APK) is the package file format used to distribute and install application software onto Google's Android Operating system. Just like the software setup (.exe files) for windows platform.
How To Download Android Apk From Playstore Directly For Free
We can download android apks using browser extension or from a website that generate a specific download link for the android app.
There are a Lot of extensions available for major web browsers like Chrome and Firefox there's always a risk of loosing confidential data like passwords,account info through that extensions. and these extensions are not available for other browsers like maxthon, safari, netscape, IE(Lol).
So, Here i'm explaining how to download from a website. Moreover , this method is useful when you're using a PC in a internet cafe or your personal Computer. Unlike extensions method you don't need to install anything in this procudure.
Download Android Apk Online For Free:
STEP 1: Visit Google Play Store and Search for the Application You Want.
STEP 2:  Select the android application or game you want to download and visit that applications page.
STEP 3: Now Copy the Url of that particular app/game From the Address/URL Bar of that page from your browser.
STEP 4: Now Visit Evozi APK Downloader website. (link: http://apps.evozi.com/apk-downloader/)
STEP 5: Paste the Copied URL in the URL block Provided there and Click On "Generate Download Link".

STEP 6: Now Click on the Green Button "Click Here to Download Now" to download android apk for free.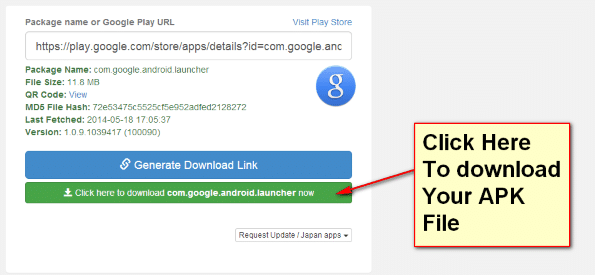 Please Share Your Views in the Comments Section if you tried Downloading android apps and games using this method.
Uday is a blogger by passion, IBMer by Profession, Artist by hobby & A huge believer of Karma….  Loves to write on tricks & tips that save time and increase productivity to every tech user.