For the Sake Of Productivity or Time Management or May be because of Laziness Most of Us Choose the Option to Let our Browser Remember our Password. In This Case I'm talking about "Facebook Login Password". It's A very convenient way coz Whenever we want to Login to our facebook account Your browser will autofill the Facebook Username and Facebook Password fields for you and we can login with Just ONE CLICK. (This works on all the Web browsers google chrome/Mozilla/ Internet Explorer/Any Other Browser You're Using on Windows/Mac/Linux) For Security Reasons All the Browsers Hides the Password behind Asterisk Marks So that other people or passersby can't view your password.
But Depending on Our Browser makes it easy for us Forgot What our Facebook Login Password is. This Tutorial Comes Very Handy for Such Conditions. We can Easily See/Reveal the Hidden Password behind those Asterisk Marks without the need of any other software or tweaks.
Also Read: Block Game Requests On Facebook
How To Reveal The Hidden Facebook Login Password Behind Asterisk:
Step 1: Open Facebook Login page. There you will see something like this (The username and password are already Auto-Filled by your Browser).
Step 2: Right Click on Your Password Block/Box. From the options(Context Menu) select Inspect Element.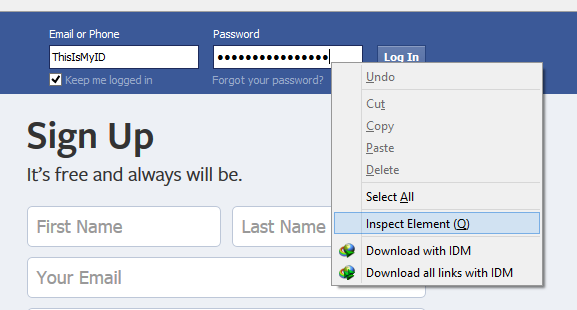 Step 3:  Now on the bottom of the browser you can notice a tab with some code is opened Which is called Developers Console.
You Don't have to be a coder to this anyway. You just have to change only one word. In that There's a line that starts with "input type=password"
Step 4: Change the word "password" to "text" and hit ENTER.
Boom…! Notice that the Password Behind the Asterisk Marks is displayed in the password box now.
This Works only for one session and If you Refresh your browser then password will be in the asterisk form again protecting your privacy.