Use IDM after 30 days trial:  IDM (Internet Download Manager 2017) is the Best Download manager available for windows platform to download Music, Videos, Images, Movies, Softwares, Zip files, almost all downloadable content from the internet. Keeping apart the fact that it's Trial Version Supports ends in 30 days, IDM is the most stable Download manager tool/software to efficiently use all the available download speed. Unlike other download managers, IDM has the capability to pause, resume and schedule downloads. It also has the comprehensive error recovery feature and resume capability to restart the broken, interrupted downloads without any hassle. IDM has a very simple interface, User friendly and Easy to Use. One of the must have tools installed on your PC this year 2017.
---
Also Read : Funny Name ideas for your Wi-fi router
---
IDM Compatibilty?
IDM is compatible with all major web browsers like Google Chrome, Mozilla Firefox, Opera, Safari, Internet Explorer. It's also compatible with all the Windows Operating Systems starting from XP, Vista to Windows 7, 8, 8.1 and on Windows 10.
How Much IDM Really Costs?
IDM is not a free. Full-featured Version Internet download manager costs around 30$ which is a lot more for people like us. A 30 day trial version is also available to download from IDM official website.
How To Use IDM After 30 Day Trial:
How to Reset IDM after the trial? No matter how powerful a software is, There will always be a way to crack things up. For IDM after a lot of trials, tests I came to know this trick which worked fine. I thought to share on my blog because I'm sure there are a lot of people out there hopefully millions searching for a solution to use IDM after the expiry of the trial period. Using this trick we can use the 30 day IDM trial version Software for free without the need of registration. A little bonus we can use it for a lifetime and works for all version of IDM. Isn't it cool..!! So lets do IDM trial Reset
First Things First:
If you don't have IDM setup With you, Download IDM 2017 Latest Version 30 day trial. By the time i'm writing (updating in 2017) this post IDM Version 6.28 Build 9 is available for download. Download the latest IDM Version
If you already have installed IDM on Your Windows 7/8/10 Laptop or PC, Please Uninstall it. Go to the App data folder and delete any folders that you see related to IDM (or with the name of Internet Download Manager). Once it's done, then Restart Your Computer. (In this tutorial, we have to restart our system a total of 3 times, don't Skip the Restart part, It's Very Important. If you don't restart when needed you can't get full version).
Tutorial To Use IDM after 30 day trial / IDM Trial Reset:
Step 1:
Press "Windows Key"+"R".(this will open 'RUN').
Type "regedit" without using quotes and press Enter.
Step 2:
Now to Go to HKEY_CURRENT_USER > Software > Download Manager.
Now Delete the Complete "Download Manager" folder.
Step 3:
Now Open "Notepad" on Your Computer as Administrator.
Step 4:
In Notepad's Menu. Click on File > Open. or Simply Press Ctrl+O
A new Window will be opened for you to Browse.
Goto  My Computer > Local Disk C > Windows > System32 > Drivers > etc.
change the option to "All Files" and you'll see a file named "hosts". (only "Hosts" , Not Hosts.ics)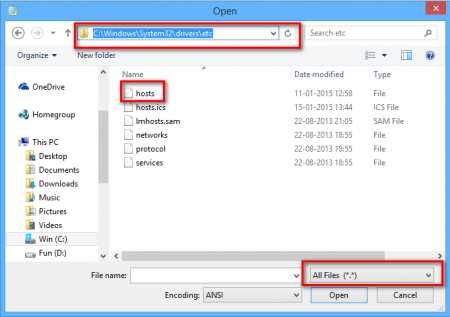 Step 5: Open "Hosts" file in Notepad. Simply Scroll down to the end of the document, Copy the Text mentioned below and Simply Paste it in the hosts document.
127.0.0.1 localhost
127.0.0.1 tonec.com
127.0.0.1 www.tonec.com
127.0.0.1 registeridm.com
127.0.0.1 www.registeridm.com
127.0.0.1 internetdownloadmanager.com
127.0.0.1 www.internetdownloadmanager.com
127.0.0.1 secure.internetdownloadmanager.com
127.0.0.1 miror.internetdownloadmanager.com
127.0.0.1 mirror2.internetdownloadmanager.com
127.0.0.1 mirror3.internetdownloadmanager.com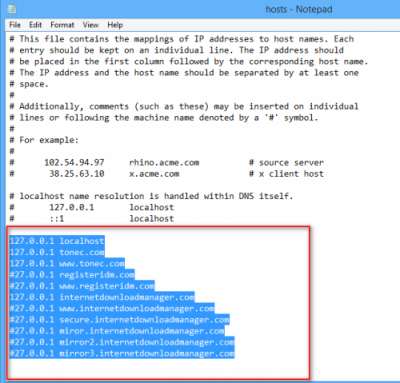 Step 6 : Save the File and restart your computer.
Step 7 : Now Install IDM and when prompted, enter the below details:
First Name – thwatikz
Last Name – youtube
Email – tbn
Serial Number – OP3BQ-I5EAR-UN52H-VR7QX
I've Received some replies saying this serial number is not working. One Probable reason is it's been used by thousands of people, So here i'm posting some more latest keys Updated as of 2017, please pick one from them.
My suggestion : Pick one key from the middle from the below list
gmrka-Lb3sh-Lbu4i-2krhx
8vhnw-ep6ec-r8pcy-x9Lx4
y9LJg-7n4qe-xh4nv-vcc72
wbxL2-wqm5g-zbdvy-wrwkp
fq7yn-cxpcL-kyvL9-JJccz
mpedJ-7Jwhv-wnac5-r3yw6
vsq7L-pdsuq-8ppJx-qneih
kgwg2-ph3g7-ecc9h-aymqr
9vbwa-h7LJu-y993k-xakst
xt9pn-pr6ak-bLwgp-g4kqe
q9h7i-heffL-pdmek-a5gJr
47qi3-iyqns-3J4fy-wnkr5
hv4Jx-xnrs7-tcb4p-fbg94
xc2Lm-7tJn8-qdeys-szsf2
f746a-2zwyJ-58txz-9ec85
Lsp9e-9LLt4-Lakfu-v7b52
gpaip-bk6me-Jz5en-Labhi
sknzh-e6Jzz-b9yhs-dhiu5
vbwiJ-LbvL5-bstt4-quurp
2tyxz-a2yx3-kJ6dh-upkhJ
zkcwr-yxqyp-het7e-9h8rn
qJJae-cturt-836wh-skcq6
unrhu-g9m7g-n3qps-4feg5
eunub-5g2mq-w2qrw-4vzkc
84rsL-4y96d-4i8a8-9zpu9
arfw7-uhLyv-kxics-Lyqah
b8h3k-bvsw6-3sxi8-ir3yy
t7pLf-aai9i-trknc-h4sbm
s2m34-b85rh-Jvs5r-435ft
bJ5up-2gwiq-rmdd2-amq4
qJJae-cturt-836wh-skcq6
unrhu-g9m7g-n3qps-4feg5
eunub-5g2mq-w2qrw-4vzkc
84rsL-4y96d-4i8a8-9zpu9
arfw7-uhLyv-kxics-Lyqah
b8h3k-bvsw6-3sxi8-ir3yy
t7pLf-aai9i-trknc-h4sbm
s2m34-b85rh-Jvs5r-435ft
bJ5up-2gwiq-rmdd2-amq4t
Step 8: Now again restart your computer and You Got the full version of IDM for Life Time Use for FREE.
Note: If You don't restart your computer, it will show you trial version only.
Note: Even After restart during it's first start (only the first time) IDM may say trial version, but full version will be automatically activated in a couple of seconds.
So hoping you've successfully completed the IDM Trial Reset , I hope you found this article. Make the best use of IDM & Do share this article ("How to Use IDM after 30 days Trial") with your friends
---

This post is copyright protected
---
Uday is a blogger by passion, IBMer by Profession, Artist by hobby & A huge believer of Karma….  Loves to write on tricks & tips that save time and increase productivity to every tech user.